Precision Medicine Partnership Forum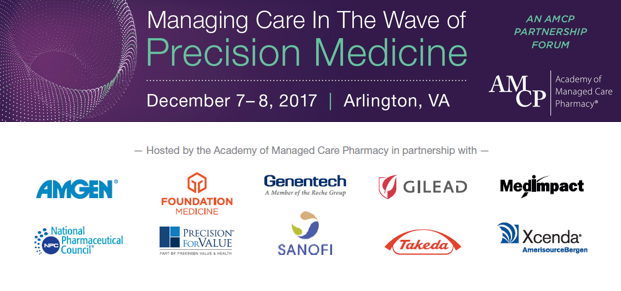 The Academy of Managed Care Pharmacy (AMCP) held a Partnership Forum "Driving Value and Outcomes in Oncology" on Nov. 14 and 15 outside of Washington, D.C. More than 30 experts from across the country discussed topics such as the importance of greater cost transparency for patients, and the need for new quality and value measures. The November Partnership Forum, AMCP's second event focusing on value in oncology, builds on results of last year's forum as well as recent research on gaps in measuring outcomes in oncology care and new cancer medicines. AMCP will use the results of this event to inform future strategic initiatives and advocacy efforts.
The Forum was moderated by Susan Winckler, Chief Risk Management Officer, Leavitt Partners and Former Chief of Staff of the US Food and Drug Administration.
The Forum was held in partnership with Amgen, Foundation Medicine, Genentech, Gilead, MedImpact, National Pharmaceutical Council, Precision for Value, Sanofi, Takeda and Xcenda.
Additional Materials: