Oncology Partnership Forum - Part I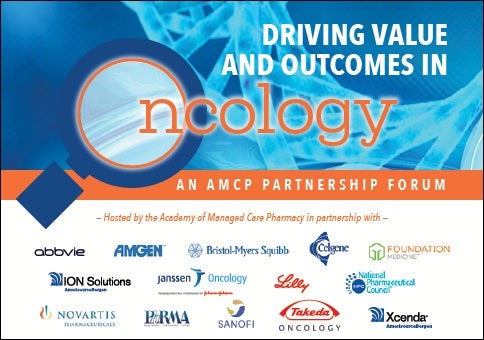 The AMCP Partnership Forum, Driving Value and Outcomes in Oncology, which took place on November 15-16, 2016, focused on the need to drive better value and outcomes in oncology for patients, providers, payers and delivery networks. Attendees discussed ideas and concepts to help sort through a wave of new oncology products coming to market each year. The event drew roughly 40 thought leaders from health plans, integrated delivery systems, PBMs, clinical practice, the biopharmaceutical companies, and laboratory companies. Also participating were representatives from the American Society of Clinical Oncology, the National Comprehensive Cancer Network, and the Hematology/Oncology Pharmacy Association.
The Forum was moderated by Susan Winckler, Chief Risk Management Officer, Leavitt Partners and Former Chief of Staff of the US Food and Drug Administration.
The Forum was held in partnership with Abbvie, Amgen, Bristol-Myers Squibb, Celgene, Foundation Medicine, Ion Solutions, Janssen Oncology, Lilly & Co., the National Pharmaceutical Council, Novartis, Pharmaceutical Research and Manufacturers of America, Sanofi, Takeda Oncology and Xcenda.
Additional Materials: