Student E-Link October 2017
STUDENT HIGHLIGHTS FROM NEXUS 2017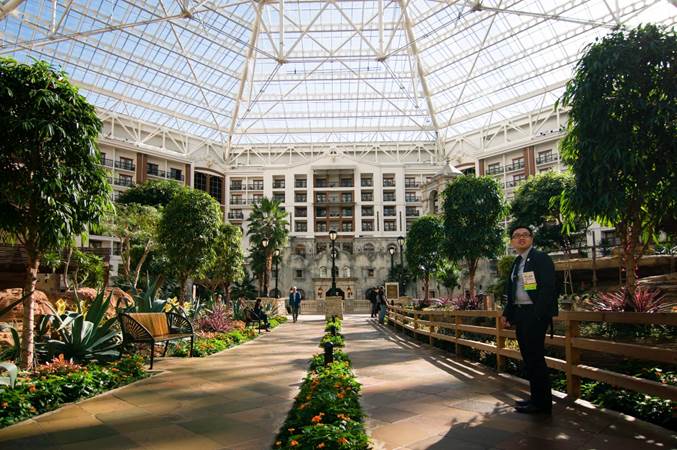 AMCP Nexus 2017 took place at the Gaylord Texan Hotel & Convention Center in Grapevine, Texas, which is located between Dallas and Fort Worth.  The Convention Center featured a beautiful riverwalk atrium, indoor gardens, and a replica of the Alamo façade. There were also various cafes and restaurants in the Convention Center, making it a great place to socialize with other students and professionals between conference sessions. 
---
STUDENT PHARMACIST SESSIONS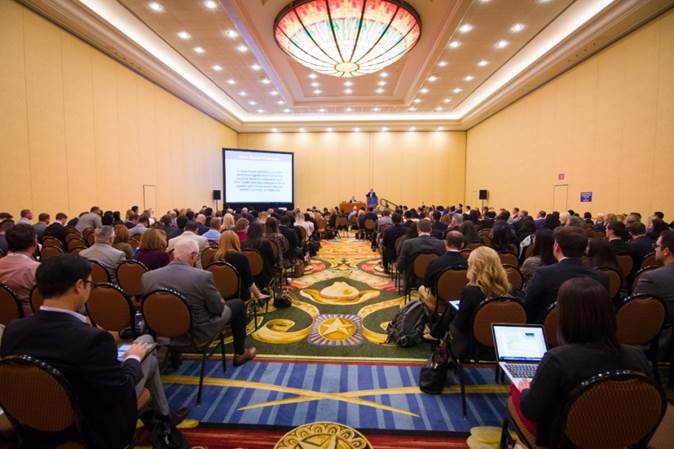 Student Pharmacist Session: Trending Opportunities in Managed Care Pharmacy 
"The student session on trending opportunities in managed care pharmacy for student pharmacists could not have come at a more opportune time. As fourth-year pharmacy students begin deciding on their post-graduate plans, it was great to expose them to multiple paths including residencies and fellowships. The diverse panel provided students with great advice and shared their experiences leading up to their current roles."  
-Samuel Hong, PharmD Candidate 2019 at University of Illinois at Chicago  
Student Pharmacist Session: The Outcome of it All – The Impact and Value of Outcomes-Based Contracts  "Jim Kenney, the Manager of Specialty and Pharmacy Contracts at Harvard Pilgrim Health Care and a member of the AMCP Board of Directors, gave a great introduction to outcomes-based contracts.  He began by discussing the traditional model of reimbursement between payers and pharmaceutical manufacturers and then described how health care delivery has been shifting focus from volume to value through outcomes based contracts.  He also provided various examples of pharmacists' roles in this area. As a pharmacy student, I found it to be a very helpful introduction to this new payment model, which I'm sure will affect all of our future careers!" 
-Kelsey Lockwood, PharmD Candidate 2019 at University of Utah 
  
---
CHAPTER OF THE YEAR AWARD WINNERS 
FIRST PLACE: UNIVERSITY OF MARYLAND 
SECOND PLACE: UNIVERSITY OF MINNESOTA 
THIRD PLACE: UNIVERSITY OF NORTH CAROLINA ESHELMAN SCHOOL OF PHARMACY 
Chapter of the Year Award – University of Maryland School of Pharmacy
"Placing 1st as Chapter of the Year at AMCP Nexus was an amazing experience for the entire chapter! We would like to thank AMCP for presenting us with this award. It was really an award to highlight all the great work the chapter has accomplished over the years. Each executive board has steadily built upon the work of the previous executive board to create sustainable educational and professional development programming for students at the University of Maryland. Being able to share the experience with Maryland alumni and current students was an even more rewarding experience. Without all of their hard work we could not have won Chapter of the Year." 
-Yogitha Pazhani, PharmD Candidate 2019 at University of Maryland  
---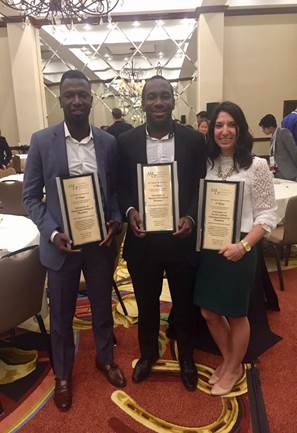 STUDENT PHARMACIST AND NEW PRACTITIONER TRIVIA NIGHT & NETWORKING RECEPTION
"Attending the Student and New Practitioner Trivia Night and Networking Reception was a great way to meet student pharmacists and new practitioners from across the country! This new opportunity for student pharmacists provided an atmosphere of networking, while also introducing some competition to the mix as we tested our knowledge of AMCP fun facts and managed care concepts. The AMCP Staff did an awesome job at making sure we had some fun mixed into our week of professionalism at AMCP Nexus!" 
-Alexa Devita, PharmD/MBA Candidate 2018 at Drake University  
Trivia Night Winners!!! 1st Place: Healthcare Hotties 
2nd Place: Mighty Morphine Power Rangers 
3rd Place: Cephalo-scorins 
---
20th  ANNUAL RESIDENCY AND FELLOWSHIP SHOWCASE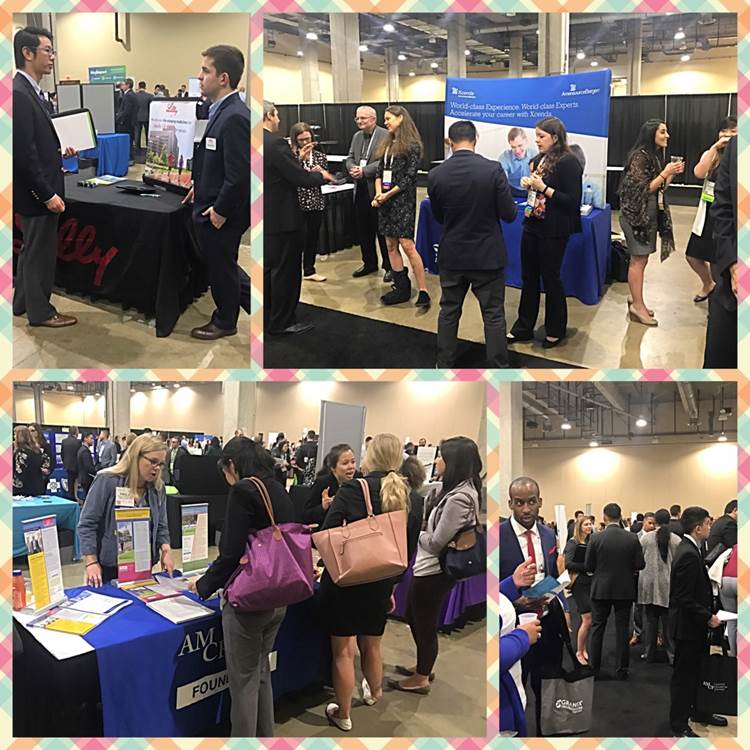 "I think the AMCP showcase was very helpful in helping me narrow down my programs of interests. Being able to talk to programs in person allowed me to determine the alignment between the programs' needs and my interests. Everyone, from fellows to directors, were genuinely interested in sharing their experiences and answering my questions. "  
- Annie Liu PharmD Candidate  2019 at University of Texas School of Pharmacy  
---
STUDENT PHARMACIST COMMITTEE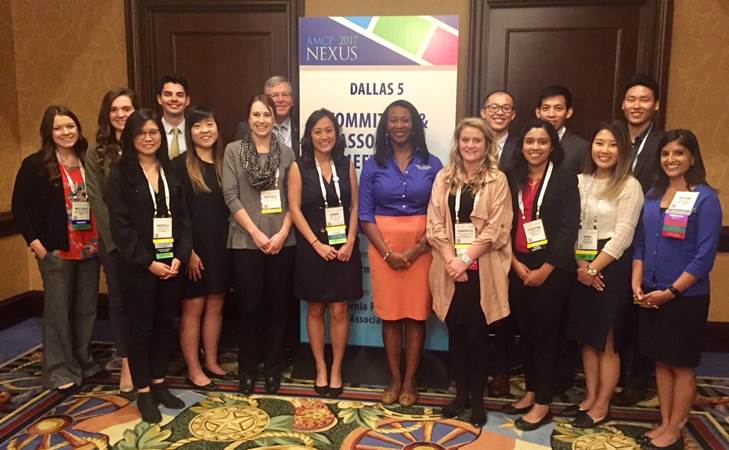 ---
Want to join a the Student Pharmacist Committee? - Apply today
Deadline:  November 16, 2017  
The committees of AMCP are the building blocks for the organization and their work is essential to moving AMCP and its strategic plan forward.    
AMCP student members are encouraged to apply for the Student Pharmacis Committee.  In consultation with the current chairperson, committee member recommendations are made by the incoming chairperson to the President-Elect for approval.  Appointments are made in January with the term beginning at the close of the AMCP Managed Care & Specialty Pharmacy Annual Meeting in April – exceptions are noted. All potential committee members must be an AMCP member in good standing.   
To learn more visit here 
---
NEW PRACTITIONER EXPERIENCE AT NEXUS 
---
CHAPTER SPOTLIGHT 
OCTOBER 2017 
PACIFIC UNIVERSITY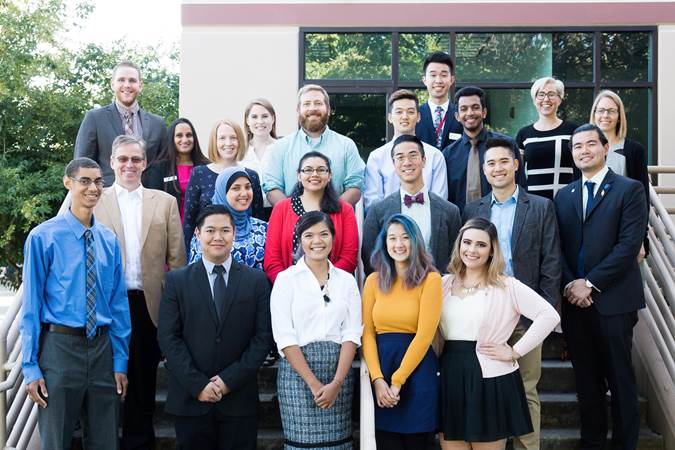 The AMCP Chapter at Pacific University School of Pharmacy in Oregon is a growing chapter that was started in 2012. Although the chapter is still growing, its current and past members have made great strides in promoting managed care pharmacy and expanding student involvement in AMCP. So far this semester, the chapter has hosted three events in order to recruit incoming pharmacy students and increase AMCP participation. During Pacific's Organization Fair, which was held during orientation week, the chapter utilized the recruitment materials from AMCP which were well received by the incoming first year pharmacy students. During this event, numerous students signed up for future newsletters and expressed interest in attending chapter events. A couple weeks later, the chapter hosted a Managed Care 101 Speaker Series alongside our Northwest AMCP Affiliate to introduce students to the concept of managed care and the benefits of becoming an AMCP student member. This event was well received with attendance from 62 pharmacy students who were eager to learn about different career opportunities within managed care. Finally, an AMCP booth was present for the very first time during Pacific's Annual Career Fair, which is a required event for first, second, and third year pharmacy students. AMCP was one of the few booths with non-traditional opportunities for pharmacists and attracted interest from several eager students. Some of the chapter's other goals this year is to assist students who are interested in participating in the AMCP P&T Competition and further collaborate with their assigned diplomats and the AMCP NW Affiliate. These goals will be crucial and beneficial in expanding the presence of AMCP at Pacific University. 
---
SEPTEMBER 2017 
UNIVERSITY OF PITTSBURGH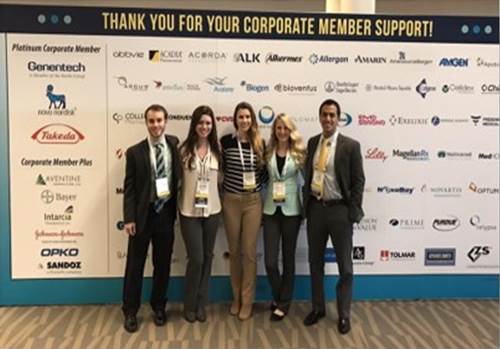 The University of Pittsburgh AMCP Student Chapter is currently the only student chapter participating in the AMCP Northeast Webinar Series. This webinar series aims to provide a platform for professionals to stay up to date on recent trends in managed care and the pharmaceutical industry. This past month, they gave a presentation on their chapter's events over the past year and future plans. On top of that, at the end of each webinar their chapter recommends potential topics to be discussed in the future. Attendees include health plans, pharmacy benefit managers, and manufacturers. Many interesting topics have been covered in the past, such as: Perspectives in Pain Management, Emerging Biosimilar trends and Insight, Specialty Pharmacy Drug Trends and Oncology Drug Trends. They plan to continue participating quarterly and collaborating with their neighboring AMCP student chapter at Duquesne University in these webinars.   
---
ANNOUNCEMENTS 
STUDENT WEBINAR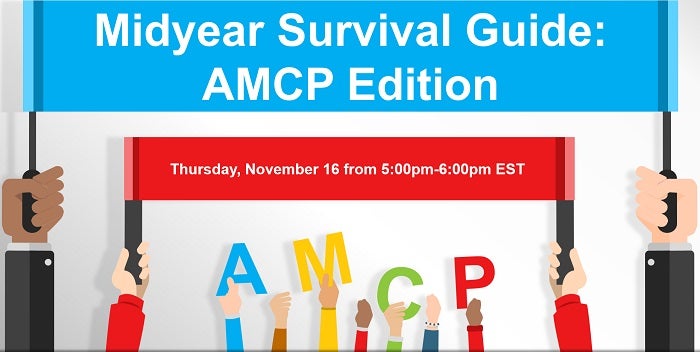 Are you considering pursuing a fellowship or residency at Midyear? Come learn some Midyear survival tips from recent attendees who successfully earned top fellopships and residencies.  
  
Speakers:  
                  -  Joseph Dang, PharmD, Managed Care Medical Communications/Managed Care Liaison, Genentech 
                  -  Joseph Galanto, PharmD, PGY1 Managed Care Resident, Blue Cross Blue Shield of Michigan 
                 -   Lauren Lyles, PharmD, Manager of Pharmacy Affairs and New Practitioner Programs, AMCP 
AMCP FOUNDATION ANNOUNCEMENTS 
---
AMCP FOUNDATION'S 2018 P&T COMPETITION 

Hope you are excited for the upcoming competition this year and encourage your chapter's participation! To facilitate your planning and organization, please visit the 2018 Competition page on our website. This page is divided into three sections: 1) general competition information 2) registration information and 3) resources. While the page itself does not require AMCP member credentials, some of the files will require login to access. As a reminder, student pharmacists must be AMCP members to participate in the P&T Competition. 
The direct link is: http://www.amcp.org/2018_PT/ 
Online chapter registration opens October 23 and closes November 13.  Chapters registration will take place through the AMCP eDossier® System. Once chapter registration has been confirmed, participating individuals will then need to register as an individual user with the AMCP eDossier® System in order to access the dossier when it becomes available. Please refer to the 2018 P&T Competition Timeline for details.  Critical deadlines are highlighted in green on timeline.  
STUDENT PHARMACIST 1990 CLUB 
---
The 1990 Club is a giving circle especially for student donors, named for the year – 1990 – that the AMCP Foundation was created. Over the years, the Foundation has developed and conducted programs to help prepare pharmacy students for success in managed care pharmacy, exposing them to the tools, skills and insights necessary to advance their careers. The support of future professionals is vital for the AMCP Foundation to meet the growing needs of the managed care field. Joining the AMCP Foundation 1990 Club is easy! Student pharmacists who donate any amount will automatically be enrolled; student donors are especially encouraged to consider a gift of $19.90 in honor of the Foundation's birthday year. Donate now! 
The AMCP Foundation wants to thank the student pharmacist that donated through the 1990 Club, attended our programs and volunteered at our kiosk during AMCP Nexus 2017! 
Thanks to Soham Shukla, 2017 AMCP Foundation/Pfizer, Inc. Managed Care Summer Intern and Rutgers Student Chapter President for organizing a group to participate in Sunrise Yoga. 
A special shout out to the schools that were represented: 
The University of Arizona, University of California-San Diego, University of California San Francisco, University of Connecticut, University of Illinois at Chicago, University of Maryland, University of Michigan, University of Missouri – Kansas City, University of North Carolina, Northeastern University, The Ohio State University, University of Pennsylvania, Rutgers University, University of North Texas, Texas Southern University, University of Utah, University of Washington, Western University of Health Sciences 
CHAPTER ACTIVITIES 
---
Remember to report your chapter's activities throughout the year. AMCP will share chapter projects via e-links and other portals throughout the school year. 
Chapter activities can be submitted using this link:  http://www.amcp.org/chapteractivity/