Part III: Interns in 2018 AMCP Foundation/Pfizer, Inc. Managed Care Summer Internship Program Share Experiences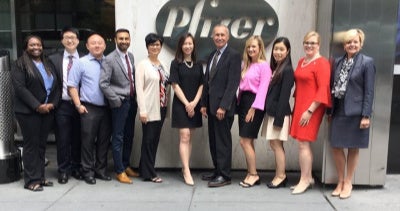 Six student pharmacists from across the country last summer participated in the AMCP Foundation/Pfizer, Inc. Managed Care Summer Internship program. The goal of the 10-week immersive experience is to develop future leaders in managed health care through activities that expose interns to population health and the application of managed care pharmacy principles. Each intern was assigned to a health plan, pharmacy benefit management company, employer site or nonprofit. This immersive experience will round out their introduction to the managed care pharmacy profession and help them develop career plan. The interns presented capstone research projects at AMCP Nexus 2018 last fall. The interns shared their experiences in the following blogs:
Wilson Haong, Western New England University College of Pharmacy and Health Sciences 
Poster: "The Development and Implementation of a Financial Incentives-Based Smoking Cessation Program at an Employer-Based Health Plan" 
Site: Independent Health, Buffalo, NY 
Preceptor: Denise Rotella, PharmD 
Pfizer Medical Outcomes Specialist: Gary Brady, PharmD, MBA 
Virtual Preceptor: Dean Conti, MBA, PharmD 

After learning about pharmacoeconomics through the Pharmacy Outcomes and Pharmaceutical Industry in a Global Context courses in the Pharm.D. curriculum, I became interested to gain insight into pharmacy practice in the managed care and industry settings. This past summer, I was able to explore both settings through the AMCP Foundation/Pfizer, Inc. Managed Care Summer Internship at Independent Health in Buffalo, NY, a not-for-profit health plan that serves over 400,000 members in the 8 counties of Western New York. 

I was very fortunate to be assigned to Independent Health because of the great group of people I worked with and the wealth of knowledge that I gained from working with them. During the first weekend of the internship, my preceptors arranged for me to attend the 2018 Annual Convention for the Pharmacists Society of the State of New York, Inc. where I learned about legislative efforts to advance pharmacy practice in the state of New York. Throughout the internship, my preceptors arranged meetings with different pharmacists at Independent Health to learn about various aspects of pharmacy practice at a health plan including prior authorization, medication therapy management, specialty pharmacy, and formulary management. I was able to contribute to projects that included new drug monographs, efforts to curb the opioid epidemic, drug utilization evaluations, therapeutic class reviews, and efforts to increase the utilization of a mobile digital health application.

One of the most memorable aspects of this internship was the capstone project, which involved the development and implementation of a financial incentives-based smoking cessation program. The development of the program helped to refine my research and writing skills through literature reviews and drafting a formal proposal for the program. The implementation of this program provided me with valuable experience in leading a new initiative in a corporate setting, which required collaboration with and approval from key decision makers including Employee Wellness, Human Resources, Legal, and the Operations Teams.

The Pfizer aspect of this internship exposed me to many roles for pharmacists in the pharmaceutical industry through a visit to Pfizer world headquarters in New York City where I met with various pharmacists who worked in safety and regulation, medical publications, health economics and outcomes research, and health information technology among other roles. Throughout the entirety of the internship, I was paired with a Medical Outcomes Specialist (MOS) at Pfizer who provided me with a thorough understanding of the MOS role in addition to valuable guidance throughout the capstone project. I also gained exposure to field based roles in industry through attending meetings with clinical pharmacists at Independent Health and medical science liaisons from pharmaceutical companies. These experiences have taught me the importance of collaboration between managed care organizations and the pharmaceutical industry to improving patient health outcomes.

A description of my experience in the AMCP Foundation/Pfizer, Inc. Managed Care Summer Internship would not be complete without mentioning the names of the people who helped to shape my professional and personal growth this summer. Specifically, I would like to thank Gary Brady at Pfizer and Denise Rotella, Martin Burruano, Mark Wrobel, Keith Rowe, Karen Brim, and Nivedita Kohli in addition to the welcoming and knowledgeable team at Independent Health. I am very appreciative to have had the opportunity to work with you all last summer!

Sarah Hebble, Ohio Northern University, College of Pharmacy 
Poster: "Retrospective Analysis of Medication Adherence for Site of Service to Specialty Medications for Chronic Inflammatory Diseases" 
Site: SelectHealth, Salt Lake City, UT 
Preceptor: Curtis Wander, PharmD, BCPS 
Pfizer Medical Outcomes Specialist: Lori Blackner-Brown, PharmD 
Virtual Preceptor: Leann C. McDowell, MS, PharmD

Being a part of the AMCP Foundation/Pfizer, Inc. Managed Care Summer Internship has undeniably been one of the most memorable and enriching experiences of my student pharmacy career. This summer, I had the privilege of spending 10 weeks at SelectHealth in beautiful Salt Lake City, Utah. Under Intermountain Healthcare, SelectHealth is the predominant health plan in Utah and Idaho, serving over 800,000 members.

My preceptor, Curtis Wander, and the pharmacists at SelectHealth served as amazing mentors and took every opportunity to teach me more about the operations within a health plan and their roles on the team. I spent a day rotating through Intermountain Specialty Pharmacy, in which I learned the significance of thorough counseling, follow-up and care coordination for patients on specialty medications. Additionally, I gained insight into the unique roles of pharmacists and other health care professionals within SelectHealth and Intermountain Healthcare by attending several clinical presentations with pharmaceutical manufacturers, as well as interdisciplinary meetings to discuss how to improve patient outcomes and quality of care. Not only are these meetings critical in making decisions to improve patient outcomes, but also to ensure that the most cost-effective interventions are being made. Being paired with Lori Blackner, my Pfizer Medical Outcomes Specialist, was another extremely valuable component of the internship, in which I learned her responsibilities in bridging the gap between health plans and pharmaceutical industry.

In addition to attending daily clinical meetings, I worked on several projects throughout my internship, including drug utilization reviews and new drug monographs, in which I presented my research and recommendations during SelectHealth's Pharmacy and Therapeutics (P&T) planning meetings. I also conducted a retrospective claims analysis to examine how dispensing channels affect adherence rates for patients on chronic inflammatory disease medications. I presented this project at Pfizer Headquarters in New York City, where I had the opportunity to meet pharmacists working in various departments and gain a better understanding of their careers and experience within Pfizer. 

I thoroughly enjoyed every aspect of this internship and I sincerely appreciate Pfizer and the AMCP Foundation for providing students like myself the opportunity to explore potential career options in managed care pharmacy and pharmaceutical industry; two fields that pharmacy students do not get a lot of exposure to in school. I will continue to develop the skills and knowledge I have gained from this internship and look forward to applying this invaluable experience to my pharmacy career.

Huzefa Jabbar, California Northstate University, College of Pharmacy 
Poster: "Opioid-Related Quality Measures Analysis" 
Site: MedImpact, San Diego, CA 
Preceptors: Bimal Patel, PharmD, MS & Sara Erickson, PharmD 
Pfizer Medical Outcomes Specialist: Eric Carda, RPh, MPH 
Virtual Preceptor: Briana Santaniello, PharmD, MBA 

I have had my eyes on this internship since I first began pharmacy school. I saw all that it could offer and it never left my vision. After two years of anticipation, receiving the offer email was one of my happiest moments in my life. 

I began my journey with MedImpact in their Fraud, Waste, and Abuse department. I learned how to conduct a compounding pharmacy audit; however, what was more interesting was investigating fraudulent pharmacies. Pharmacies were submitting fraudulent, large volume claims and abusing their reimbursements. I was amazed and dismayed by all the tactics pharmacy owners could use to enlarge their profits at the expense of uninformed patients. 

I transitioned into Health Outcomes for 3 weeks and in this department, I learned how MedImpact uses clinical products to improve outcomes but also lower costs. Using this data, various new clinical products were also influenced into creation. It was fascinating to see how outcomes data shapes the function and role of a PBM. I began my outcomes research project on Opioid Related Quality Measures. As a student, I have longed for an opportunity like this; to get hands-on experience and conduct an outcomes research study. This was the main reason I was so attracted to this internship. By the end of this rotation, my understanding towards the role of a PBM was incredibly enhanced. Not only did I look at PBMs and healthcare differently, my thought process towards certain situations also evolved and matured. 

My second half of the internship began with Drug Information. I quickly realized that this department is truly the core of MedImpact. I assisted the Drug Information team with producing a full drug review, creating prior authorization criteria, revising prior authorization criteria, and also conducting a formulary management analysis. These projects showed me how intertwined drug information is with all of the other departments of MedImpact. The drug information team also supported the needs of Health Outcomes and Clinical Account Services. Whether it was catering to a client request or an internal business need, I enjoyed using my clinical knowledge to become a versatile intern pharmacist. 

I concluded my internship with a cost-impact analysis working with Clinical Account Services to better inform our clients. This project allowed me to become more familiar with Excel and also showed me the intricacies and multiple variables that come into play when calculating costs. This rotation was very enjoyable because of it's direct client interaction.

Throughout my time at MedImpact, I also met with Eric Carda, who was my Pfizer Medical Outcomes Specialist. This interaction was also a major attraction to the internship when applying. Upon our first meeting, I was taught how he utilizes or initiates outcomes research. Eric also showed me the Pfizer Oncology Research & Development facility in La Jolla, CA. There, I learned about the drug development process and Pfizer's history as a company. Towards the end of my internship Eric arranged for me to sit-in on an MOS on-boarding training session where I saw demos and results of the resources Pfizer's MOS' have available to them and what they are capable of. I truly enjoyed actively seeing the role of the MOS and understanding what they achieve. It was very rewarding to see how patients have been impacted by their work. 

I am truly grateful for this opportunity as every moment felt surreal. I wish every pharmacy student could experience those 10 weeks with me because I know each student would evolve into an enhanced healthcare professional. I cannot thank Pfizer and the AMCP Foundation enough for providing the opportunity, facilitating everything, and being so supportive. I am glad that I was able to spend my time at MedImpact Healthcare Systems as they were all so welcoming and supportive of my development. Each team I worked with ensured I understood all there is to understand and that I am continuously being exposed and learning about the company. I am confident when I say that I am not the same professional that I was before this internship. 

Sumie Kakehi, Rutgers University, Ernest Mario School of Pharmacy 
Poster: "Evaluating the Outcomes of Opioid Use in Patients with Diabetic Peripheral Neuropathy" 
Site: Horizon Blue Cross Blue Shield of New Jersey, Newark, NJ 
Preceptor: Saira Jan, MS, PharmD 
Pfizer Medical Outcomes Specialist: Dean Gianarkis, MS, PharmD 
Virtual Preceptor: Pranav Patel, PharmD, RPh 

The AMCP Foundation/Pfizer, Inc. Managed Care Summer Internship was an unforgettable experience. This past summer, I had the opportunity to spend 10 weeks at Horizon Blue Cross Blue Shield (Horizon BCBS) of New Jersey located in Newark, NJ. This internship was very unique in that it allowed me to see the critical roles that pharmacists play in a health insurance company, which is not an opportunity many students receive while they are still in school.

During my first two weeks at Horizon BCBS, each of the pharmacists gave a presentation outlining their roles and tasks, which provided me with a thorough overview of the different functions within a health insurance company. My preceptors Dr. Saira Jan and Dr. Alex Wiggall were very welcoming and they provided me with myriads of opportunities even as an intern, whether it was to attend the Pharmacy and Therapeutics Conference or to sit in on phone conferences. Throughout my time at Horizon BCBS, I was exposed to a variety of aspects of managed care, including utilization management, formulary management, and medication therapy management. I also worked on a variety of projects, including outreaches, claims analyses, and research projects. My major project was a retrospective claims analysis using pharmacy and medical claims data to determine the outcomes of opioid use in patients with diabetic peripheral neuropathy.

As a student with strong interest in the pharmaceutical industry, having a Pfizer Medical Outcomes Specialist (MOS) as a mentor definitely broadened my perspectives of the industry as a whole. My MOS, Dr. Dean Gianarkis taught me a lot about his role as a pharmacist, which was very eye-opening. With his knowledge and experience of the pharmaceutical industry, his mentorship provided me with the education and awareness of contemporary issues that I would not be able to learn by completing a course in pharmacy school. 

Throughout the internship, I was not only able to explore the profession through the perspective of my mentors, but I was also constantly surrounded by other professionals who have been able to give me their outlook on specific aspects of pharmacy. Being in an environment in which I was surrounded by pharmacy professionals with varying backgrounds allowed me to create a holistic view on what to expect as I look forward to entering the same area of expertise in the coming years.

I particularly enjoyed the visit to Pfizer headquarters located in New York City, where I had the opportunity to present my project to Pfizer pharmacists and meet all of the other AMCP Foundation/Pfizer, Inc. interns. During the visit, we also listened to Pfizer pharmacists from different departments speak about their roles. This opportunity allowed me to expand my knowledge on the different departments within a pharmaceutical company, which furthered my understanding of the roles and responsibilities of pharmacists in the pharmaceutical industry.

Ultimately, I thoroughly enjoyed the AMCP Foundation/Pfizer, Inc. Managed Care Pharmacy Summer Internship and am truly grateful to the AMCP Foundation and Pfizer for making this opportunity possible. I could not have asked for a better experience and I am very excited for the future of managed care. I am certain that the skill sets that I have gained and the experiences that the ACMP Foundation and Pfizer have afforded me throughout my time at Horizon has aided in my professional development as I look to join the field of managed care.

Samuel Kim, University of Minnesota, College of Pharmacy 
Poster: "Retrospective Analysis of Trends and Risk Factors of Opioid Naïve Patients Transitioning to New Chronic Opioid Users" 
Site: HealthPartners, Bloomington, MN 
Preceptor: Peter Marshall, PharmD, RPh 
Pfizer Medical Outcomes Specialist: Jocelyn Good, RPh 
Virtual Preceptor: Desola Davis, PharmD, BCPS, BCACP 

The AMCP Foundation/Pfizer, Inc. internship with HealthPartners was an incredibly rewarding experience. Coming from an academic curriculum with a greater clinical focus, it was difficult to explore non-traditional pharmacy careers. However, with this internship I gained a significant amount of exposure and had the chance to work with healthcare professionals in a variety of different fields such as managed care, industry, and medical outcomes. Most of my time was spent working with pharmacists at HealthPartners in different departments. My preceptor, Peter Marshall, ensured I was able to gain exposure to most of the services HealthPartners provides by setting up a rotation schedule, which was similar to their residency program rotation. By completing these rotations, I now have a much greater understanding of managed care from the health plan perspective. I am extremely grateful for the individuals from each department that took the time to help me learn and succeed. 

Interning at HealthPartners has shown me just how important managed care pharmacy is. Whether we were discussing the MTM program, reviewing contracts, or preparing for P&T, the overall goal of the organization was to focus on the Triple Aim. This is a quality of HealthPartners that I greatly admire. It was amazing to see how the decisions we made could affect such a large population of patients in a positive way by improving patient care, improving the health of populations, and reducing cost. Another excellent aspect of this internship is the variety of tasks you would encounter every day. There was never a day that I felt I was performing repetitive, tedious tasks. Every challenge required critical and innovative thinking. This kept me motivated throughout the internship and made the experience quite enjoyable. 

This entire experience would not have been possible without the insight and wisdom of my preceptors Peter Marshall and Desola Davis, and my Pfizer medical outcomes specialist, Jocelyn Good. Their wisdom and wealth of knowledge were irreplaceable and helped elevate my understanding of managed care. I would also like to thank Christine Strahl and Joseph VonBank from the HealthPartners specialty pharmacy team for providing me opportunities to work with them throughout the internship. Additionally, all the healthcare professionals at Pfizer's headquarters who took the time to speak with the AMCP Foundation/Pfizer interns were amazing and contributed significantly to the internship by discussing their past experiences and careers. This internship was truly a unique experience and I look forward to utilizing the skills I have learned this past summer. I hope the AMCP Foundation/Pfizer, Inc. internship program continues to take on new students in the future to share this amazing experience. 

Mandy Renfro, The University of Texas at Austin, College of Pharmacy 
Poster: "25 Years of Managed Care Leadership Development: A Descriptive Analysis and Summative Evaluation of Academy of Managed Care Pharmacy Foundation Intern Alumni" 
Site: AMCP Foundation 
Supervisor and Virtual Preceptor: Paula Eichenbrenner, MBA, CAE and Annesha White, PhD, PharmD, MS 
Pfizer Medical Outcomes Specialist: John Spain, MA, PharmD, BCPS 
Pfizer Senior Director Field Based Medical: Linh Terriet, PharmD, BCPS, CPHIMS

As I reflect on my summer spent as the 2018 AMCP Foundation/Pfizer, Inc Managed Care Research and Nonprofit Leadership Intern, I am profoundly grateful. Currently, I am in the first semester of my third professional year at The University of Texas at Austin College of Pharmacy. Receiving the phone call back in 2016 that I was admitted into to this top-ranked pharmacy program was a moment I will never forget. Similarly, when I received the call that I had been chosen to serve as the second ever Managed Care Research and Nonprofit Leadership Intern at the AMCP/Foundation Headquarters in Alexandria, VA, I could not contain my excitement. I was so ready to get started that I emailed my assigned mentors to see if there were any preliminary readings or projects I could help out with. 

June finally arrived, and I embarked upon what was about to become the most enlightening and immersive experience of my educational and professional journey thus far. During my first week, I had the opportunity to attend an educational session on the ins and outs of avoiding legal pitfalls associated with charitable fundraising. In addition, I began scheduling one-on-one interviews with practicing managed care professionals and AMCP members to learn more about potential career paths as well as the unique needs of AMCP members compared to other pharmacists. I quickly realized how little I knew regarding the practice of managed care pharmacy, and I became determined to learn as much as possible in 10 weeks, so that I may educate others regarding this unique practice setting. Staff and board members for AMCP and the AMCP Foundation were influential in providing me with background knowledge and the tools to start the process of developing an AMCP student chapter at UT College of Pharmacy. 

Along with my structured experiences contributing to leadership development and emotional intelligence, I conducted an independent research project and helped with several other projects in their respective stages towards completion. The level of autonomy I was given allowed me to develop stronger initiative, project management skills, and overall confidence. My project entailed conducting a descriptive analysis of the 163 AMCP Foundation Intern alumni over the 25 years of the program's existence. I also completed a summative evaluation of the program overall in order to inform improvements and feedback for key internship stakeholders. Overall, this project allowed me the opportunity to connect with intern alumni and recognize that many of them are working full time with managed care organizations, pharmaceutical and biotechnology companies, or conducting research in academia or as consultants. At the end of my internship, I was able to present my findings to individuals at the Pfizer World Headquarters in New York City and to all AMCP staff. My career aspirations have shifted directions as a result of these interactions, and I now believe completing a fellowship and/or graduate program conducting health outcomes research is the best fit for me.

I could write for hours about my personal growth and leadership as a result of this internship experience, but I will close by extending my gratitude to my virtual preceptor, Dr. Annesha White, my mentor and boss, Paula J. Eichenbrenner, and my Pfizer Medical Outcomes Specialist, Dr. John Spain. The unwavering support, caring guidance, and time you each spent with me one-on-one has positively impacted my self-confidence, understanding of managed care and industry pharmacy roles, and ignited my passion for improving the health of all individuals by implementing safe and effective use of medications and other treatments. In addition, there are several others who contributed to my internship from near and far by providing feedback on my capstone research project pilot survey, allowing me to shadow their work for a day, and answering every career-related question I could come up with. Lastly, I would like to thank both AMCP and AMCP Foundation staff for their warmth, inclusivity, and passion for serving both practicing and aspiring managed care pharmacists like myself.