JMCP 25th Anniversary Highlights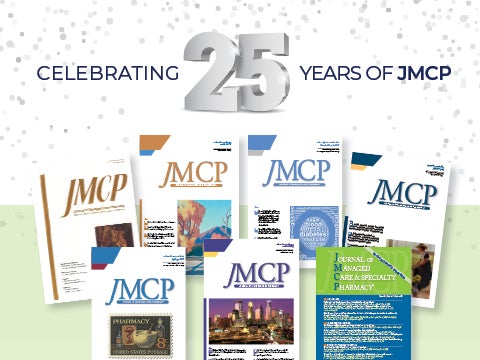 The year 2020 marks the 25th anniversary of the Journal of Managed Care & Specialty Pharmacy (JMCP). To commemorate this milestone, JMCP will publish a series of articles that document changes to the journal and the profession over the past two and a half decades. Each month, JMCP will reprint an original article from a previous year, dating as far back as 1995. The reprinted articles will feature topics of significance to managed care pharmacy practice. Each reprinted article will be accompanied by a contemporary reflection that will consider the historical significance of the topic, as well as the current and future state.
January 2020 Issue
February 2020 Issue
March 2020 Issue
April 2020 Issue
May 2020 Issue
June 2020 Issue
Vintage Rerun — Pharmacoeconomic Evaluations: Guidelines for Drug Purchasers
Langley PC, Sullivan SD
JMCP. 2020; 26(6), 689–95.
Contemporary Reflection — Evolution of the AMCP Format for Formulary Submissions

Watkins JB, Sullivan SD, Sampsel E, Fullerton DS, Graff JS, Fry RN, Lee J, Tam IM, Avey SG
JMCP. 2020; 26(6), 696–700.
July 2020 Issue
August 2020 Issue
September 2020 Issue
October 2020 Issue
Vintage Rerun — Direct Costs of Opioid Abuse in an Insured Population in the United States
White AG, Birnbaum HG, Mareva MN, Daher M, Vallow S, Schein J, Katz N
JMCP. 2020; 26(10), pp. 1188–98.
Contemporary Reflections — Managed Care Pharmacy Research on Inappropriate Opioid Use Interventions
Hertzog LT L, McAdam-Marx C, Happe LE
JMCP. 2020; 26(10), pp. 1199–1202.
November 2020 Issue
December 2020 Issue