Foundation Board of Trustees Spotlight: Dr. Susan Shiff, PhD, MBA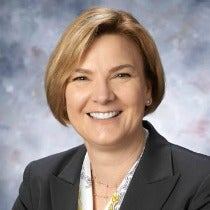 The Foundation Board of Trustees is made up of nationally recognized health care thought leaders. In this issue we are proud to spotlight Susan Shiff, PhD, MBA, senior vice president and head of the Center for Observational and Real-World Evidence division at Merck & Co. Read her interview: 

How long have you been Senior Vice President and head of the CORE organization at Merck? 
I joined Merck in 2014 as Senior Vice President and head of the Center for Observational and Real-World Evidence (CORE) organization. CORE links together epidemiologists, health economists, access and reimbursement experts, health services researchers and others involved in health policy research with the goal of leading global strategic value evidence generation and access strategy development to optimize reimbursement and patient outcomes across Merck's portfolio. 

What do you like most about your work?
The ability to design and conduct scientific studies and appropriately communicate these findings to facilitate more informed decision making regarding a healthcare technology. 

Why did the invitation to serve on the Foundation Board appeal to you?
The mission of the AMCP Foundation is to "advance the quality and affordability of our health care system by promoting the application of medication-related research and education." What is particularly appealing is the use of research and education to advance the effectiveness and efficiency of our health care system. 

Are there any opportunities you feel a new college graduate should explore?
Definitely biopharmaceutical research! At Merck, we seek to discover and champion the latest, most promising advancements against the world's greatest health challenges. To accomplish this, we are willing to invest in solutions that take us in directions we've never explored before. We need passionate colleagues that are seeking to advance and improve healthcare. 

What is your hope for the AMCP Foundation in the future?
The Foundation continues to support and encourage research that has the potential for positively disrupting the US health care system so that patients receive innovative and curative therapies while at the same time optimizing health care coverage.