Market Insights
Let Us Lead Research Across Your Product's Life Cycle
Double-blinded Market Insights studies deliver open and candid feedback from payers, P&T decision makers and other managed care personnel. Our double-blinded format ensures impartial input on payers perceptions and allows key decision makers to engage that may not normally attend manufacturer-sponsored programs. 
We will work with you to develop a study that gives you the guidance you need to succeed in today's market no matter where you are in your product's life cycle. The resulting report can be kept confidential or shared widely through distribution to JMCP readers—the choices are all up to you!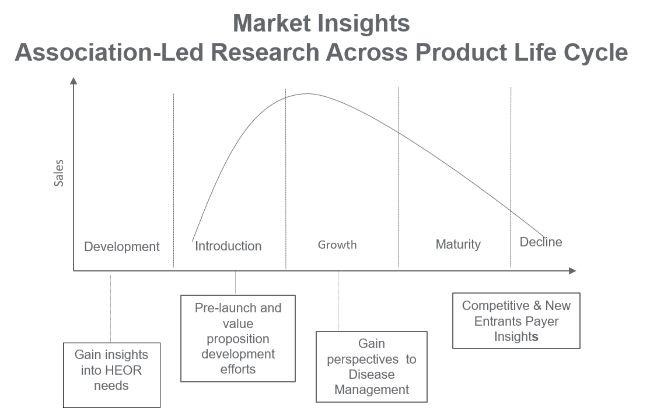 Benefits to Managed Care Decision Makers:
Credible unbiased research: Association-led with participants representing a cross-section of AMCP membership (national and regional level)
Peer-to-peer awareness and education initiatives: Summit findings provide key insights into the disease and benefits of therapeutic options as well as site of care administration. The 2018 Kantar market research indicates that managed care decision makers seek colleagues, professional associations and profession journals as top sources to stay abreast of industry development, business ideas, and new products and services.
Interactive dialogs with practicing key opinion leaders: Each summit has one or two key opinion leaders to discuss the real-world diagnosis and treatment practices of physicians treating the conditions. This engagement allows participants to have a broader perspective of patient management and treatment choice. The speaker interaction is consistently rated one of the most valuable aspects of each program.
Benefits to Industry Partners:
Disease category insights: Each Summit generates proactive insights into current and future utilization management and site of care policies and strategies within a therapeutic class. 
Specific research insights: Sponsors create 5-10 questions to vet during the research, which is an effective way to understand key issues faced by payers and manufacturers throughout the product life cycle. Some of the most valuable insights can be garnered to help in develop strategies for the following situations:

Launch planning
Competitive entrant into "crowded" category
Rare and high investment products
Complex care management/chronic conditions
Novel mechanism of action and delivery systems
Critical adherence requirements

Extend market research funding: For a modest investment, you are able to gain broad and specific insights, gain market awareness with recognition (optional) in the educational proceedings published in the Journal of Managed Care and Specialty Pharmacy and AMCP hosted national webinars.
For more information and to discuss a market insights opportunity contact corpopportunities@amcp.org. 
Samples of Past Market Insights Programs: 
Survey Panel
Online Surveys Offer Timely Feedback
AMCP has an on-call panel of available payers and managed care professionals who can respond to online survey questions. Let us work with you to get the input you need for a deeper understanding of your market and the payer community.  
Contact View Email Address to discuss conducting an online survey.