AMCP CEO Cantrell Offers Managed Care Pharmacy Perspective to Digital Therapeutics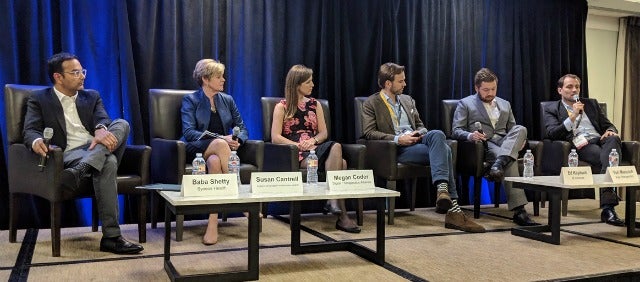 Managed care pharmacy offers a wide array  of tools and practices to help ensure patients have access to needed medications while controlling rising costs. These include P&T committees, tiered formularies, step therapies and utilization management programs. But nothing says such tools can't be used beyond the biopharmaceutical realm, notes AMCP CEO Susan A. Cantrell, RPh CAE. 

That was the message she brought to a Jan. 9 session at the Digital Medicine and Medtech Showcase, which was part of the Biotech Showcase in San Francisco, California.

Cantrell says managed care pharmacy has much to offer the emerging market of digital therapeutics (DTx), which have the potential to revolutionize population health management and help patients live healthier lives, just as technology has improved our lives in innumerable other spheres.

The FDA has approved a growing number of DTx in recent months, including the BlueStar app from WellDoc for Type 2 diabetes, and the reSET app from Pear Therapeutics, in partnership with Sandoz, for substance use disorder. These examples are just the tip of the iceberg for DTx, and a sign of things to come. Not so long ago, some health professionals would snicker or roll their eyes when we talked about patients leaving the doctor's office with a prescription for an app rather than a medicine. Now it's a reality, Cantrell notes.

Managed care pharmacy is supportive of the coming DTx revolution, but many questions remain. At the top of the list is how will DTx be paid for, and where is the evidence to support coverage? What I hear from AMCP members on the payer side is, "Where does DTx fit in the grand scheme? Is it in the medical benefit or the pharmacy benefit? Who's ultimately responsible?" Cantrell says. "These questions will take time to resolve, but I believe managed care pharmacy can develop the blueprint for addressing them, and we're already on the right path with our commitment to value-based care. AMCP strongly believes that models based on rewarding value over volume have the potential to improve patient care and control rising costs."

Value based care will likely encompass DTx, since these therapies personalize treatment and help providers engage people before they become patients. In order to showcase that value, our health care system will need advanced data analytics, end-to-end population health management solutions, comprehensive care management, and successful patient engagement, including remote monitoring. This is where managed care pharmacy principles come into play.

DTx has the potential to disrupt our delivery of care in a positive way, and we are just starting to see results. As the saying goes, the only constant in health care is the constant state of change. Managed care pharmacy is prepared to help lead that change.