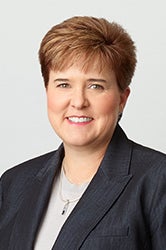 Christina J. Barrington
Treasurer
Christina has over 20 years of managed care experience and is currently the Vice President of Pharmacy Programs for Priority Health, where she is responsible for setting strategy for the pharmacy department and managing the pharmaceutical services budget across the organization.  
In addition to her role in pharmacy management, Dr. Barrington has conducted extensive research into the impact of value-based benefit designs and is a pioneer in risk-based contracting strategies.  She has presented her research and innovative contracting strategies at a variety of conferences.  
Additionally, she has served as the Vice-Chairman of the Board of Managers for the Illinois Foundation of Quality Health Care and is currently a member of the URAC Measures Advisory Research Group.
As an active member of AMCP since 1996, Dr. Barrington has held the office of President of the Midwest Affiliate for two terms and currently serves on the Finance Committee.