FDAMA 114 Partnership Forum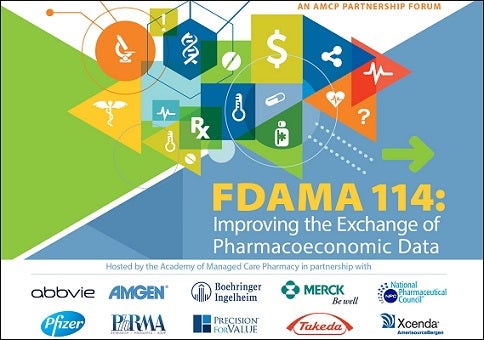 The AMCP Partnership Forum, FDAMA 114: Improving the Exchange of Pharmacoeconomic Data, which took place on March 1-2, 2016, gathered a diverse group of health care stakeholders representing pharmaceutical companies, managed care organizations, academia, health care providers and patient advocacy groups to develop consensus on a wide range of recommendations to make it easier for pharmaceutical companies to share pharmacoeconomic information with health care organizations that make coverage decisions.
The Forum sought to clarify Section 114 of the 1997 Food and Drug Administration Modernization Act (FDAMA). Originally established to encourage manufacturers to share "health care economic information" (HCEI) with just managed care pharmacy and therapeutic committees, the nearly 20-year-old law has been underutilized due to uncertainty and lack of guidance from the FDA.
The Forum was moderated by noted health policy expert Susan Dentzer, incoming President and CEO of the Network for Excellence in Health Innovation.
The Forum was held in partnership with AbbVie, Amgen, Boehringer Ingelheim Pharmaceuticals, Merck & Co., the National Pharmaceutical Council, Pfizer, Pharmaceutical Research and Manufacturers of America, Precision for Value, Takeda Pharmaceuticals and Xcenda.
Additional Materials: