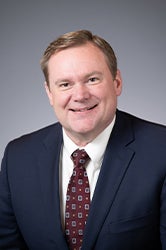 James R. Hopsicker
Director
As Senior Leader, Health and Pharmacy Management, Jim is responsible for health care clinical operations, quality and pharmacy management.  Jim utilizes over 25 years of managed care experience to engage all stakeholders to optimize health care outcomes and continuously improve quality of care.
Jim leads the charge to advance the profession of pharmacy practice.  He takes pride in being a trusted advisor to his own team and to internal and external customers. Through partnerships with employers and health care providers, he is passionately committed to furthering education and awareness of prescription drug costs and utilization.
Jim earned his MBA from Union Graduate College and holds a bachelor's degree in Pharmacy from the Albany College of Pharmacy and Health Sciences.  He is Adjunct Faculty at the Albany College of Pharmacy and Health Sciences in the department of Pharmacy Practice.  Jim serves as a Preceptor for three different pharmacy schools.
Jim currently serves on the Board of Directors for the Academy of Managed Care Pharmacy (AMCP), and on the Board of Directors of the Northeastern New York Chapter of the Alzheimer's Association.