Show Notes
Health care expert Fred Goldstein, host of the AMCP Podcast Series — Listen Up!, sits down with Susan Cantrell, AMCP CEO, to discuss the significance of the recent passage of the Pre-approval Information Exchange (PIE) Act of 2022, which was signed into law in December 2022. They discuss how AMCP' came to support PIE, and now that it's been signed in law, how PIE safely expedites the window in which payers review critical economic and clinical information from pharmaceutical manufacturers to determine how they will cover treatments for patients.   
Transcript
Fred Goldstein  00:02
Hello and welcome to the AMCP Podcast Series - Listen up. As we take a deep dive into the challenges, trends, and opportunities in managed care pharmacy, follow the show's social hashtag AMCP. Listen up. And to learn more about AMCP Visit amcp.org. I'm your host Fred Goldstein. Today we explore the Pre-approval Information Exchange or PIE act, HR 9297. With Susan Cantrell, the CEO of AMCP. Welcome, Susan.
Susan Cantrell  00:32
Thank you for having me, Fred.
Fred Goldstein  00:34
It's really a pleasure, fantastic area to discuss, I look forward to seeing how this impacts all of us as we launched 2023. So let's talk about the PIE Act. What is the issue that the PIE Act is trying to address?
Susan Cantrell  00:45
So the PIE act is all about pre-approval information exchange between manufacturers and payers, that is about products in advance of their approval by the FDA. It's an issue that we've been working on for about six years now. And it was brought to us by our members and the need. Basically, FDA regulations historically prevented manufacturers from proactively sharing information about products in advance of their approval. And we now know in today's environment where more and more innovation is coming to market, sometimes through expedited approval pathways like breakthrough therapies or accelerated approval, that products come to market with less information sometimes available. And it's critical in many cases, especially when we're dealing with life-changing or life-saving therapies, that payers be able to quickly evaluate those products to determine coverage, reimbursement, formulary placement, and all those important elements related to payment. So what we're trying to do is get our members managed care pharmacy professionals, the information that they need, that often they can only obtain for manufacturers in advance of the product approval, so that the approval pathway, and the approval per payment pathway can happen simultaneously, as opposed to like passing a baton and a relay, if you will.
Fred Goldstein  02:19
And it may help a little bit if you could discuss how health plans or PBMs look at these and review them in order to approve them.
Susan Cantrell  02:29
Sure. And I appreciate that question. I'm not sure that it's well understood, especially outside of managed care circles. And so our members, and P and T committees that they work with, and others really dig into all of the evidence and information surrounding a product clinical as well as economic evidence to look at what are the benefits? What is the safety profile look like for a particular product? How effective is it compared to other therapies or standards of care? So there is a really, really thorough evaluation of a product before decision-making takes place. I know that most of your audience will likely be familiar with something called the AMCP format for formulary submissions that are often called the AMCP dossier. It's been around for about 20 years now it's become the gold standard of how payers like to obtain information from manufacturers. So everything that's in there is so relevant and important to the payer evaluation, as they think about how do we best position this product for the benefit of our patient populations. So from a benefit perspective, it's going to help the plans make more rapid decisions, which ultimately helps the patients. It really is all about patients. What we're trying to do is speed up that decision making. And then on the other side of it, make sure there's budget available for new therapies as they come to market. If you look at the way the Medicare Part D program works, then plans have to submit cost information bids, if you will to CMS well in advance of the start of the plan year, I think this year, it's June 6, or somewhere around there. And so they're locked into what is available once premiums are set. And if they're surprised by something that comes out in the middle of the year, which has happened in the past, then there might not be the funds available to support something that could be used in a broad population or something that is a very high-cost therapy. So not only are we trying to speed up the decision making we're trying to make sure that plans and pharmacy benefit managers have that information well in advance so that they can plan for the decision-making, value-based contracting all those other elements that are so critically important today.
Fred Goldstein  05:13
So it helps the plans work through it. And also obviously, I would assume, because you get that knowledge and have it once it's launched, potentially patients could get access to these products earlier.
Susan Cantrell  05:24
That is the overall goal. Absolutely.
Fred Goldstein  05:27
Yeah. Fantastic. And I know that AMCP really focused on advocating for this bill for a number of years. What was the role that AMCP played? And why did you choose to take this on?
Susan Cantrell  05:40
So we started this work back in 2016. A little walk down memory lane here, I had just joined AMCP. And in March of 2016, we brought together a group of about 40 thought leaders from various stakeholder groups to talk about an issue that was really important, not PIE at the time, we hadn't even brought that up. But it was something called FDAMA 114 FDA Modernization Act of 1997. It was the bill that reauthorized the FDA user fee act. And there was a provision in it that allowed manufacturers to share healthcare economic information with payers, or I believe the legislative language was formulary committees and other similar entities. So the bill had been passed 19 years prior, and there was no regulatory guidance available. So we were still, you know, not getting what we needed on the managed care side of things. So we brought a group together to say, what do we need to do about this? What help can we give FDA to promulgate some regulatory guidance on this? And in those discussions, the issue of pre-approval information came up. I recall it like it was yesterday, one of the members who was participating worked for a health plan, said, you know, this is really important, we need this economic information, economic model. But what we also need is, we need to know about these products before they're approved by FDA well in advance of approval. So what can we do about that? So we convened another group in September of 2016, to talk specifically about the pre-approval discussions. And that's where we coined the term PIE, we spent a remarkably a lot of time talking about, what is it that's needed? Is it clinical evidence? Is it, what exactly do we need? And when do we need it? And what should it look like? And we said, we heard loud and clear from the members on the payer side, and on the pharmaceutical side, we need information. And so it doesn't just have to be clinical evidence, we need information about dosage form, potential indications, patient populations, that it will be used in all of that. So we decided to use the term information. And we called it Pre-approval Information Exchanged. And we shorten that to PIE, because everybody likes pie, right? And that put us on the path to create the legislative language that eventually was signed into law in December as part of the omnibus package. So it's been a relatively long journey. But remarkably, in the world of federal legislation, it's like a millisecond. It happened rapidly. And so we're very, we're very proud of the work that we've done on this.
Fred Goldstein  08:48
It's really fantastic. And you can see the benefit it's going to give to both the industry itself and the payers as well as the patients, obviously, to get that information out early. And when you think about this AMCP is obviously convening this group, who were some of the people that were involved in this. And when you talk about doing something like that
Susan Cantrell  09:07
AMCP is a convener, I think it's one of the strengths that we offer, as we address new and emerging issues that will impact patients, impact access to medicines and impact the work that our members do. And so we use this model, partnership forum, among others, to really bring together the experts and thought leaders who have a stake in the issue. And what we make sure we do is have all voices present. So we would have especially at a discussion like this not only managed care pharmacy professionals who might work in health plans or might work for pharmacy benefit managers. We have health care providers, prescribers. We have representatives from the biopharmaceutical industry They're an important stakeholder as well. And we also have patient representatives, there might be others. But those seem to be the core groups for every partnership forum that we hold. And we carefully vet the participants to make sure that they have the subject matter knowledge that we're looking for, on a particular issue. And we found this type of model or this type of convening to be just incredibly important in helping us advance the mission of the organization. PIE is a great example of that I could give you many more, but PIE  is one of many.
Fred Goldstein  10:40
And I know it's so important. You mentioned it, having patients on that, you know, people who were living with these conditions or disease, so you can get some real input from that broad spectrum.
Susan Cantrell  10:49
Patients were a really important part of this effort to, as we started to talk to members of Congress about the legislation back in late 2016, early 2017, what one of the questions that we heard was, well, what are the patient groups think about this, you know, have you reached out to various patient groups to get input. And so we made sure that we did that. And we created a coalition to advance this legislation. And we had a number of patient groups who were in full support of it, and who participated in our stakeholder group, or coalition. But I also want to call out and express our gratitude to the leadership of the members of Congress that really drove this forward. Representative Brett Guthrie from Kentucky introduced the first bill in early 2017, and then reintroduce PIE in the last session of Congress. And he was joined, it was completely a bipartisan effort, he was joined by co-sponsor, Ana Eshoo, and, you know, they really saw the vision that of what we were trying to achieve here and recognized the importance to patients and really push to advance it. And by the time the bill was passed out of the Subcommittee, or the committee, we had six co-sponsors, three Democrats and three Republicans. So Guthrie and Eshoo led the charge and were able to secure bipartisan support, and I think that's what really made the difference.
Fred Goldstein  12:32
Really fantastic. Great way to kick off 2023 With this show on PIE  and I'd like to thank you.
Susan Cantrell  12:38
Yes, thank you.
Fred Goldstein  12:40
So many thanks to our guest, Susan Cantrell, the CEO of AMCP, for her insights into the PIE Act. And thank you for joining us today. If you liked the show, you can find all our episodes at amcp.org/podcast, on our show page at healthcarenowradio.com or on your favorite listening platform by searching healthcare now radio. You can follow our show's social hashtag at #AMCPListenup. And don't forget to share, like, and follow AMCP. org on LinkedIn, Twitter, Instagram, and Facebook. I'm Fred Goldstein for AMCP. Until next time.
About the Hosts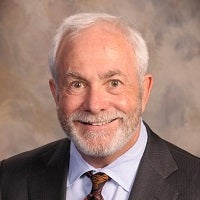 Fred Goldstein, President of Accountable Health, LLC
Fred Goldstein is the founder and president of Accountable Health, LLC, a healthcare consulting firm focused on population health, health system redesign, new technologies and analytics. He has over 30 years of experience in population health, disease management, HMO, and hospital operations. Fred is an Instructor at the John D. Bower School of Population Health at the University of Mississippi Medical Center and the editorial Board of the journal Population Health Management.
Connect: