BeiGene's FDA-Approved BTK Inhibitor
Webinar Recorded on April 14, 2020
Sponsored by BeiGene 
Mantle cell lymphoma (MCL) is a rare, aggressive Non-Hodgkin lymphoma that remains incurable despite recent prognostic improvements.1,2 The role of Bruton's tyrosine kinase (BTK) inhibitors in treating MCL will evolve substantially over the coming years as results from a number of clinical trials become available.1 This webinar will provide an overview of MCL, current unmet treatment needs, and the role of a second-generation BTK inhibitor in MCL treatment.
Speaker: 
Michael Kolodziej MD, FACP
VP and Chief Innovation Officer
ADVI
This webinar is sponsored, developed and presented by the sponsor. The content of this Science & Innovation Theater Webinar and opinions expressed by the presenters are those of the sponsor or presenters and not of AMCP. 
Sponsored by:
BeiGene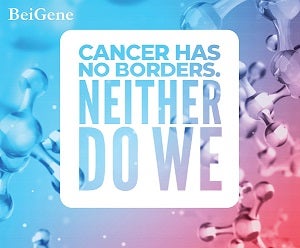 References: 1. Owen C, Berinstein NL, Christofides A, Sehn LH. Review of Bruton tyrosine kinase inhibitors for the treatment of relapsed or refractory mantle cell lymphoma. Curr Oncol. 2019;26(2):e233-e240. 2. Jain P, Wang M. Mantle cell lymphoma: 2019 update on the diagnosis, pathogenesis, prognostication, and management. Am J Hematol. 2019;94(6):710-725.