Pre-FDA Approval Partnership Forum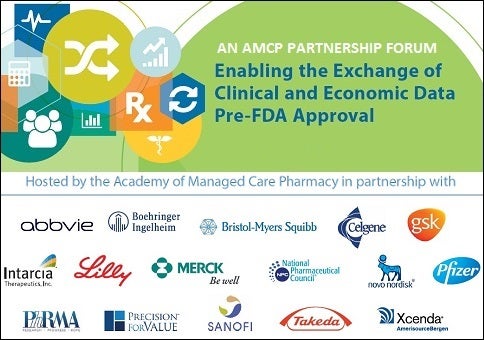 The AMCP Partnership Forum, Enabling the Exchange of Clinical and Economic Data Pre-FDA Approval, which took place on September 13-14, 2016, gathered a diverse group of health care stakeholders representing managed care, the pharmaceutical industry, academia, providers, patients and others to develop recommendations for biopharmaceutical companies and health care decision makers to more easily communicate information on products awaiting Food and Drug Administration (FDA) approval. Payers and other entities seek clinical and economic information related to medications and health care technologies in the pipeline 12-18 months prior to medication or technology approval. Early dissemination of HCEI to payers would allow them to build this information into forecasting and premiums, as waiting until approval is often too late.
The Forum was moderated by noted health policy expert Susan Dentzer, President and CEO of the Network for Excellence in Health Innovation.
The Forum was held in partnership with AbbVie, Boehringer Ingelheim Pharmaceuticals, Bristol Myers Squibb, Celgene, Intarcia Therapeutics, Eli Lilly and Company, GlaxoSmithKline, Merck, National Pharmaceutical Council, Novo Nordisk, Pfizer, Pharmaceutical Research and Manufacturers of America, Precision for Value, Sanofi, Takeda, and Xcenda.
Additional Materials: