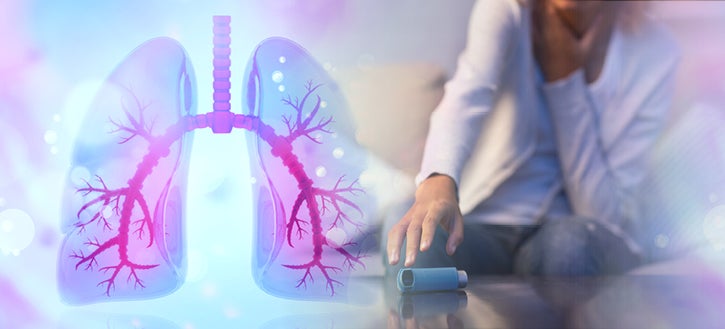 Asthma is a condition in which your airways narrow and swell and may produce extra mucus. This can make breathing difficult and trigger coughing, a whistling sound (wheezing) when you breathe out and shortness of breath.1
For some people, asthma is a minor nuisance. For others, it can be a major problem that interferes with daily activities and may lead to a life-threatening asthma attack.1 AMCP is pleased to work with Amgen Inc. to offer these resources to you.
Journal of Managed Care + Specialty Pharmacy
Additional Resources
2022 GINA Report: The 2022 update of the Global Strategy for Asthma Management and Prevention incorporates new scientific information about asthma based on a review of recent scientific literature by an international panel of experts on the GINA Science Committee. This comprehensive and practical resource about one of the most common chronic lung diseases worldwide contains extensive citations from the scientific literature and forms the basis for other GINA documents and programs.2
Efficacy and Safety of Tezepelumab in Adults and Adolescents with Severe, Uncontrolled Asthma: Results from the Phase 3 NAVIGATOR Study. Menzies-Gow A, Corren J, Bourdin A, et al. Journal of Allergy and Clinical Immunology. 2021 Feb. doi: 10.1016/j.jaci.2020.12.050.
EAACI Biologicals Guidelines-Recommendations for severe asthma. Agache I, Akdis C, Akdis M, et al. Allergy. 2021 Jan. doi: 10.1111/all.14425.
Clinical Recommendations for the Management of Biological Treatments in Severe Asthma Patients: A Consensus Statement. Delgado J, Dávila I J, Domínguez-Ortega J, et al. J Investig Allergol Clin Immunol. 2021 Feb 17;31(1):36-43. doi: 10.18176/jiaci.0638.
Recent advances in the immunopathogenesis of severe asthma. Saba Al Heialy, Rakhee K. Ramakrishnan, Qutayba Hamid. J Allergy Clin Immunol. 2022 Feb;149(2):455-465. doi: 10.1016/j.jaci.2021.12.765.
Prospects for severe asthma treatment. Calzetta L, Matera M G, Coppola A, et al. Curr Opin Pharmacol. 2021 Feb;56:52-60. doi: 10.1016/j.coph.2020.10.021.
Managing chronic rhinosinusitis in severe asthma. Ramaswamy U S, Patel V A, Lee S E. Curr Opin Pulm Med. 2021 Jan;27(1):23-28. doi: 10.1097/MCP.0000000000000741.
Applying personalized medicine to adult severe asthma. Tiotiu A. Allergy Asthma Proc. 2021 Jan 1;42(1):e8-e16. doi: 10.2500/aap.2021.42.200100.
Asthma, severe acute respiratory syndrome coronavirus-2 and coronavirus disease 2019. Timberlake D T, Strothman K, Grayson M H. Curr Opin Allergy Clin Immunol. 2021 Apr 1;21(2):182-187.
Bronchial Thermoplasty Induced Airway Smooth Muscle Reduction and Clinical Response in Severe Asthma. The TASMA Randomized Trial. Goorsenberg A W M, d'Hooghe J N S, Srikanthan K, et al. Am J Respir Crit Care Med. 2021 Jan 15;203(2):175-184. doi: 10.1164/rccm.201911-2298OC.
Severe Adult Asthmas: Integrating Clinical Features, Biology, and Therapeutics to Improve Outcomes. Wenzel S E. Am J Respir Crit Care Med. 2021 Apr 1;203(7):809-821.
Asthma control and psychological health in pediatric severe asthma. Griffiths D, Giancola L M, Welsh K, et al. Pediatr Pulmonol. 2021 Jan;56(1):42-48. doi: 10.1002/ppul.25120. Epub 2020 Oct 26.
Sponsored by Amgen Inc.
---
1. Mayo Clinic. (n.d.) Asthma. Retrieved from: https://www.mayoclinic.org/diseases-conditions/asthma/symptoms-causes/syc-20369653. 
2. Global Initiative for Asthma. (n.d.) 2022 GINA Main Report. Retrieved from: https://ginasthma.org/gina-reports/.