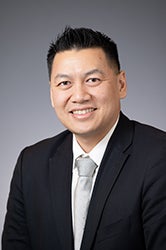 Vinson C. Lee
Director 
Vinson Lee is currently Vice President, Market Access & HEOR at The Kinetix Group, an insights-powered healthcare strategy and life science agency with industry-leading expertise in health system and managed market access. Dr. Lee has over 15 years of experience in managed care pharmacy, the pharmaceutical industry, and academia. He has held various commercial market access, medical affairs, and HEOR leadership roles within the pharmaceutical industry. His experience includes developing and implementing market access strategies and services, directing value-based contract negotiations, and presenting key clinical and pharmacoeconomic data to formulary decision makers and health systems to ensure brand access. In addition, he has broad therapeutic area experience including dermatology, rheumatology, oncology, nephrology, respiratory and rare diseases. 
Dr. Lee has a well-established network of payer opinion leaders and is actively involved within the pharmacy profession and associations, currently serving as a Director for the Academy of Managed Care Pharmacy (AMCP) and adjunct assistant professor of pharmacy at the University of Southern California (USC) School of Pharmacy. He also serves on the USC School of Pharmacy Board of Councilors, Western University of Health Sciences College of Pharmacy Dean's Advisory Council, Thomas J. Long School of Pharmacy & Health Sciences, University of the Pacific Continuing Education Advisory Board, and Keck Graduate Institute School of Pharmacy Practitioner Network Council. Vinson is also a past President of the California Pharmacists Association (CPhA).
Vinson holds a Doctor of Pharmacy degree from USC School of Pharmacy, Master of Science degree in Cell & Neurobiology from the Keck School of Medicine of USC, and Bachelor of Science in Biology from the University of California, Riverside.